Chicago Family & Bankruptcy Law Firm
When you are faced with a divorce or another family law matter in Chicago, having the right legal guidance and support is the key to navigating the complex maze of law. At Swietkowski & Swietkowski, P.C., we understand that a divorce and other family law disputes can be some of the most challenging experiences in life. Our dedicated Chicago family law attorneys are here to guide you through these difficult times with a singular focus to protect your rights under all circumstances.
We recognize that every family's situation is unique, which is why we customize our legal solutions and advice to best serve your specific needs and help ensure a promising future for you and your loved ones. Whether you're dealing with divorce, child custody, child support, spousal support, property division, paternity, or another family law issue, our experienced family lawyers Chicago will leave no stone unturned to negotiate or litigate the best possible outcome for you.
Our Areas of Family Law Practice in Chicago
Divorce
Divorce, also known as the dissolution of marriage, is the legal process of terminating a marriage between two individuals. Illinois is a "no-fault" divorce state, which means that neither party is required to prove the other is at fault for the breakdown of the marriage. Instead, the only ground for divorce in Illinois is "irreconcilable differences," meaning the couple can no longer live together as husband and wife due to unresolved conflicts or disputes.
Whether you're going for a divorce or legal separation, the process involves various aspects, including the division of marital property, allocation of parental responsibilities (previously known as child custody), parenting time (visitation), child support, and spousal support (maintenance). Each divorce or legal separation case is unique, and the court takes into account various factors to determine a fair outcome in the best interests of the involved parties and their children.
High-Conflict Divorce
A high-conflict divorce in Chicago refers to a divorce case where the spouses experience significant disagreements or disputes over critical aspects of the dissolution process. These conflicts can arise from various issues such as, domestic violence, dissipation of assets, substance abuse, mental illness, or other challenging circumstances.
If you're involved in a hostile divorce, you and your ex may find it difficult to cooperate and communicate effectively, prolonging the divorce process and potentially leading to a lengthy process of litigation. In these cases, it is crucial to have brilliant legal representation to help understand all your options, protect your interests, and present evidence in court if the case goes to trial.
Our experienced Chicago family law attorneys can assist you in gathering evidence and testimonies to bolster your case, representing you in court, and working towards a resolution through litigation. Our primary goal in these situations is to protect your interests so that you can get the most favorable outcome.
High Net Worth Divorce
Couples with high net worth often share significant assets, property, and multiple sources of income, making their divorces more complicated. In cases like these, issues often arise related to business valuations, sophisticated tax structures, investment portfolios, real estate holdings, and the identification of hidden assets.
At Swietkowski & Swietkowski, P.C., our Chicago family lawyers will collaborate with a team of financial experts, including forensic accountants, business valuators, and tax professionals, to tackle the challenges of your high asset divorce. Count on us for skillful guidance and unwavering commitment to your needs.
Property Division
Dividing property during a divorce can be a daunting task, as it involves not only financial assets but also emotional attachments – it's not something you want to leave to chance. Without the right legal guidance, you risk losing what's rightfully yours or taking on a disproportionate share of the debts.
Our detail-oriented property division lawyers can help you wade through the legal landscape, ensuring that you receive your fair share of marital property. Illinois law requires an equitable division of marital assets, which means a fair, but not necessarily equal, distribution. This includes everything from real estate and investments to personal property like jewelry and vehicles. We can also help you protect your separate property and ensure that hidden assets are accounted for.
Child Custody and Parenting Time
The bond between a parent and child is one of life's most cherished relationships, and when facing family law matters in Illinois, decisions around child custody and parenting time can tug at the heartstrings of everyone involved. These critical choices lay the foundation for your child's future and the precious moments you'll share together.
In Chicago, child custody and parenting time are determined according to the best interests of the child. The state law refers to child custody as "allocation of parental responsibilities," which encompasses decision-making responsibilities and parenting time. Decision-making responsibilities involve major decisions about the child's education, healthcare, extracurricular activities, and religious upbringing. Parenting time, previously called "visitation," refers to the time each parent spends with the child.
The Illinois Marriage and Dissolution of Marriage Act (IMDMA) provides guidelines for determining these arrangements. In most cases, parents are encouraged to create a parenting plan together. If they cannot agree, the court will step in and make the decisions for them. Illinois courts prefer arrangements that promote a healthy relationship between the child and both parents, unless it is detrimental to the child's well-being.
It goes without saying that maintaining the delicate balance between the needs of your child and your own parental rights can be extremely difficult. At Swietkowski & Swietkowski, P.C., our family law attorneys understand the emotions at play and work hard to help you secure an outcome that prioritizes both your and your child's best interests.
Spousal Support
In the aftermath of a Chicago divorce, financial stability can become a major concern, especially for a spouse who has depended on their partner's income or has made sacrifices for the family's well-being. In Illinois, spousal support serves as a lifeline, helping to bridge the economic gap and provide a foundation for a secure future.
The process of determining spousal support can be a sensitive one, but having a caring and competent legal advocate by your side can make all the difference. At Swietkowski & Swietkowski, P.C., we understand the emotional weight of these discussions and are deeply committed to safeguarding your financial well-being during this critical period.
Child Support
Under Illinois law, all parents, including divorced or unmarried parents, share the legal responsibility to financially support their minor children. The recent adjustments to the state's child support calculations according to an income shares model ensure that the financial resources of both parents are taken into account while determining their child support obligations.
Our committed family law attorneys in Chicago at At Swietkowski & Swietkowski, P.C. will help you prepare all the necessary financial documents to determine an accurate amount as well as pursue any legally permissible deviations from the standard calculation. Our legal team can also help you negotiate a favorable agreement with the co-parent for contributing to the college education expenses of your children.
Paternity and Parentage
Establishing paternity is especially important for unmarried parents, as it legally recognizes a father's rights and responsibilities towards their child, it secures their parental rights and determines their obligations, such as child support and parenting time (previously known as custody or visitation) arrangements.
The Illinois Parentage Act provides the legal framework for establishing paternity in the state. At Swietkowski & Swietkowski, P.C., our experienced attorneys can guide you through the various ways to establish paternity:
Voluntary Acknowledgment of Paternity (VAP): If both parents agree on the identity of the child's father, they can sign a VAP form, which establishes legal paternity.
Court Order: If the parents disagree or need the court's intervention, a paternity action can be filed in court. Our skilled attorneys can represent you, ensuring the court orders genetic testing and issues an order establishing paternity based on the test results.
Prenuptial and Postnuptial Agreements
Prenuptial and postnuptial agreements can provide valuable peace of mind and financial security for couples in Illinois, both before and after they tie the knot. These legal contracts outline the division of assets, debts, and financial responsibilities, saving time and money in the event of a separation or divorce. By clarifying expectations upfront, you can prevent potential disputes and focus on building a strong and lasting relationship.
If you're considering marriage and want to create a prenup, or if you're already married and wish to establish a postnup, a Chicago family lawyer at Swietkowski & Swietkowski, P.C. can help. We will work with you to craft a legally enforceable, fair agreement that reflects your unique circumstances. Our 40+ combined years of expertise of each attorney ensures that your prenup or postnup will be tailored to protect all your assets while adhering to the state's legal requirements.
Post-Divorce Modification Orders
Your divorce and family law matters, such as child custody, child support, and spousal support may have been settled to your satisfaction, but circumstances can change over time. You may want to relocate with your child to a new city, your income may lessen due to a job loss, or your ex-spouse's financial circumstances may significantly change.
Depending on the circumstances, you and your ex have a right under Illinois law to petition the court for a modification of one or more elements of your divorce order. Our Chicago post-divorce modification order lawyers can guide you about the appropriate modification terms based on your needs, work closely with you to draft a modification petition, and move forward with the legal steps to obtain the desired modification order from the court that protects your interests.
Attorney Profiles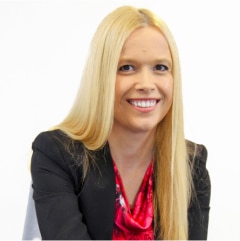 Anna Swietkowski
Anna Swietkowski specializes in all matters related to family law and bankruptcy. She has been highly successful in helping her clients obtain financial relief under Bankruptcy laws and get a fresh financial start. Anna is also fluent in Polish and is licensed as an attorney in the State of Illinois. She has been practicing since she got her Juris Doctor degree in 2001 from DePaul University.
View Profile
Beata Swietkowski
Beata Swietkowski is the founder of our family law firm at Swietkowski & Swietkowski, P.C. She got her Juris Doctor in 2003 from DePaul University. She specializes in legal matters related to child support, child custody, divorce, order of protection, bankruptcy, legal separation, real estate, and eviction. Beata is fluent in Polish and has been licensed to practice in the State of Illinois since 2003.
View Profile
Get the Advantage of Having a Top-Rated Family Law Attorney in Chicago on Your Side
At Swietkowski & Swietkowski, P.C., we understand that family law issues can be intensely complicated and contentious. That's why we offer a boutique law firm approach, with personalized attention for every client. We take the time to listen to your concerns, explain your legal options, and craft a customized strategy that aligns with your goals and priorities.
We offer representation in a wide range of family law matters, including divorce, child custody, child support, spousal support, property division, prenuptial agreements, postnuptial agreements, and more. If you're looking for a Chicago family law firm that will work tirelessly to protect your interests and achieve the best possible outcome for your case – we've got you covered.
When you choose Swietkowski & Swietkowski, P.C., you can expect:
Extensive experience in family law
Personalized attention and compassionate representation from start to finish
Strong advocacy in negotiations, mediation, and litigation
A client-focused approach that prioritizes your needs and goals
Clear communication, regular updates, and transparent billing practices
With over four decades of combined experience, our legal team has the knowledge, skill, and tenacity to fight for your rights and achieve the best possible outcome for your case. Don't settle for less than you deserve. Call us today at (773) 207-8983 or fill out this form to set up your free, no-obligation consultation.
Request Consultation